Our partnership with Charles Darwin University (CDU) began with the highly successful, large-scale redevelopment of their current Drupal 8 site. After launch it was clear that there was a lot more we could achieve together to keep them delivering tertiary education at an internationally-renowned standard.
With their small web team working at full capacity, the best way to help them achieve their digital goals was to establish an ongoing relationship. This meant we could carry the load of larger development work, deliver life-cycle support and help to upskill their development team. It also enabled us to provide strategic-level guidance towards the future of the CDU website.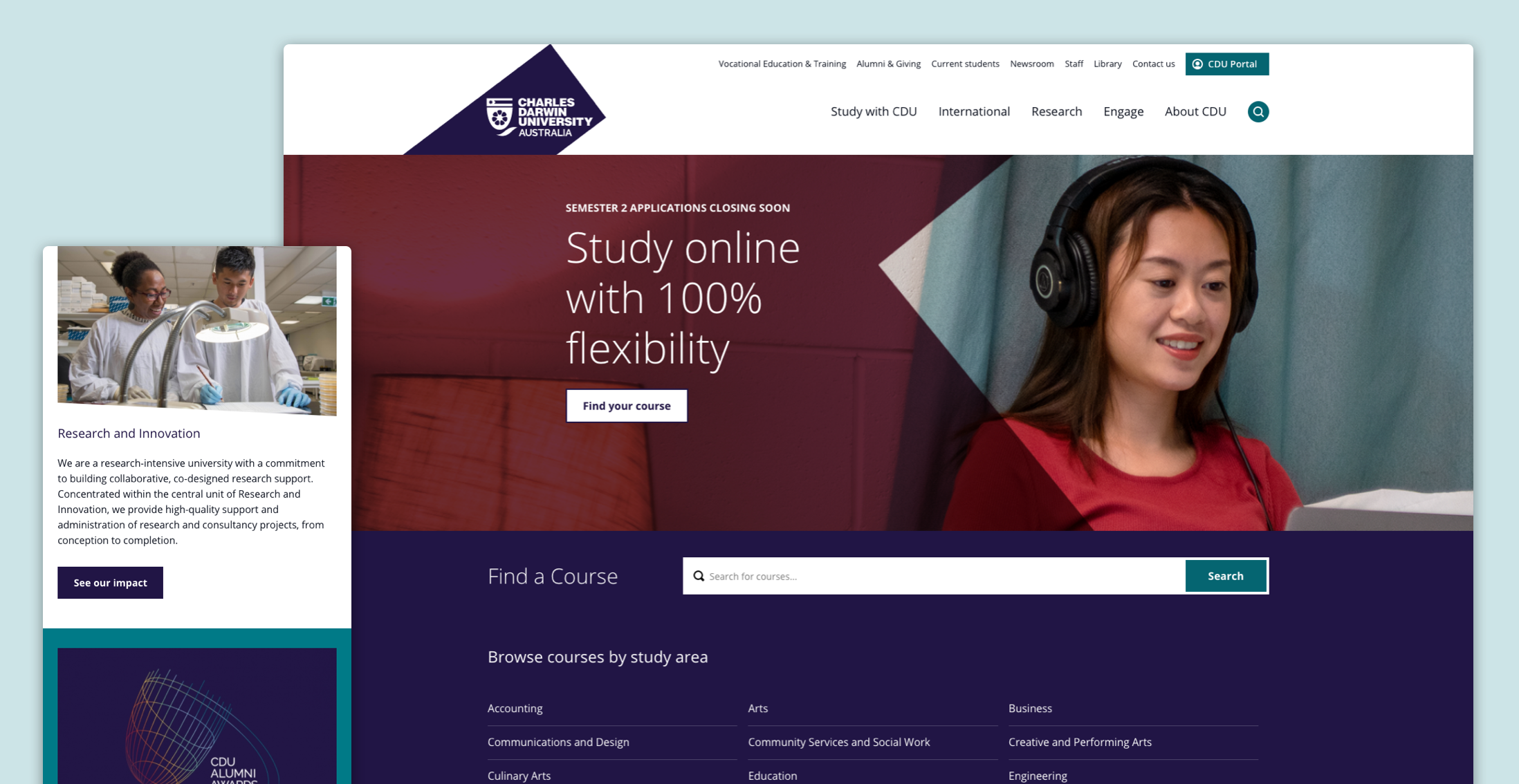 Highlights
Long-term engagement

Life-cycle support

Internal team augmentation & training

Strategic project management

Security and module updates

Rapid design and development
Deliverables
Developers upskilled in Drupal and DevOps

Team size extends ad hoc to support projects

Continuous stream of projects

Great student online experience

Consistency of microsite branding

Consolidation of smaller sites into Drupal 8
Why These Deliverables?
Given our Higher Education Drupal expertise and thorough knowledge of CDU, it made sense for CDU to team up with us to grow and upskill its team. The university has been able to outsource its larger development projects and ongoing maintenance support to our team. Meanwhile, the in-house team operates as the internal support contact for the CDU community, whilst onboarding new sites and publishing content.
Over the course of our relationship, we aim to keep delivering big-ticket projects that will help CDU stay ahead of the curve.
Context
Charles Darwin University (CDU) is a top tier Australian university based in the Northern Territory. It attracts students from around the world as well as closer to home here in Australia.
Being a Northern Territory institution gives CDU a unique insight into the need for flexible study options for its students. This includes distance, online learning and the ability for students to complete courses on a part time basis. In order to support these offerings, CDU requires a digital-forward approach that keeps it constantly ahead and in tune with its students' needs in the online space.
With their internal web team already working at capacity, the challenge for CDU was: how to achieve its digital goals and stay relevant as an Australian university with international appeal?
About the Client
Charles Darwin University is a multi-sector university that provides training and education to more than 21,000 students across its eight campuses and centres in the Northern Territory and Australia. It has 30 years of experience in distance and online education, and prides itself on supporting flexible study.
CDU is popular with students in Australia and globally, and is ranked in the top 100 for quality education. National and international performance tables consider the university to be a leader in employment and starting salary outcomes.
BAU & Long term support
The university development team has worked with us since 2017 when we first collaborated to develop the current CDU site.
Following the success of this initial project, CDU felt confident that establishing an ongoing relationship with us would help bolster their internal development team and help them achieve their digital goals.
The strategy was that we would provide not just life-cycle support (such as bug fixes, and security and module updates), but also tackle the more significant development work in a continuous stream. These site updates have been released regularly to meet the university's requirements.
Relying on us for more complex integrations leaves their team free to address smaller in-house work on a more frequent basis.
Design system and foundational style guide development
The purpose of the foundational style guide was to establish a level of consistency between working design files and design in production on the site.
The design system provided CDU with a single source of truth. The web team historically encountered issues when new features were added or changes made to the site, which caused designs and components to become inconsistent. A systematic approach now ensures all work is aligned with the base designs and that everything is usable.
In addition to the workflow benefits of enabling CDU to create their own layouts efficiently from existing components, this project also laid the groundwork that will benefit new sections and improvements into the future.
Content personalisation
We implemented functionality that allows site users to switch between two versions of CDU landing pages. Version one caters to domestic students and version two to international students, with an option to select your preferred view. Nursing and Health Courses in Sydney gives an example of how this works.
The CDU marketing team has the flexibility to roll this feature out incrementally for different disciplines or pages as needed.
Microsite support
CDU has several separate subsites within their digital portfolio - each developed independently and with separate requirements. The goal since launch has been to encourage a consolidated digital platform by bringing these small sites into the larger Drupal 8 site.
This single-site approach improves the end-user experience, reduces management and editorial overhead, and allows for shared development improvements between sites.
To achieve this, we implemented PreviousNext-developed, open-source microsite functionality. This now allows the CDU team to spin up a new subsection of the site that has unique content and menus - but which also inherits the style guide and powerful front-end components that have already been developed.
The Research Institute for the Environment and Livelihoods subsection is an example of a microsite with its own navigation, but it also has clear nods to the core design principles that guide the main site.
Consolidation of larger sites
Continuing the theme of consolidation, we rebuilt the separate Current Students portal, bringing it into the main CDU site in 2021. Current Students is a one-stop-shop of information for students whilst studying with CDU. It includes everything they need to know about campuses, timetables, directories and their enrolment.
Launchpad is another area where we were able to help CDU meet their consolidation goal. Launchpad is a blog that was previously developed outside of Drupal and independently of the web team. We helped the web team to migrate the content from Hubspot and performed a blog upgrade (frontend and backend) to allow the content to be hosted and managed from within their Drupal 8 CMS.
Results
CDU's trust and faith in us was generated by our initial web development project and has grown with a continuous stream of projects since. We're now very much an extension of their internal team and enjoy helping them to keep kicking their digital goals.
As a small team, CDU's developers have also had the opportunity to work alongside seasoned Drupal experts. This has increased their knowledge and skills, helping them to work more efficiently.
Ongoing work to consolidate the university's digital assets also helps to reduce the frustrations and bottlenecks previously created by working with different platforms and CMS that were commissioned outside of the development team.
Over time, we've collaborated to establish ways to make the delivery of website development projects easier and in line with clear-cut design guidelines, with ready-to-go elements in place.
This unifying approach helps to make the site user experience consistent, seamless and responsive to their individual needs. It also reflects the flexible options for engaging with CDU as a student, parent, staff member or researcher.